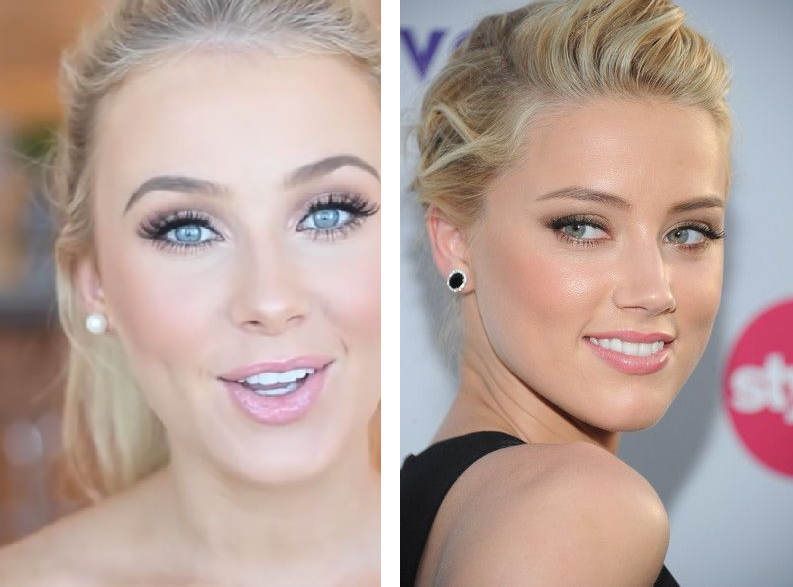 Makeup inspiration for your wedding day is necessary, but can also be a little tricky. The internet is a bottomless pit for makeup and hair images, and 99% of the images you find are photoshopped, filtered or edited in some way. Lighting also has a huge impact on how the makeup photographs, and how flawless the skin looks. For example, many YouTube beauty gurus/bloggers will have a ring light or multiple lights when filming, or taking photographs. This lighting really "blanks out" any imperfections they might have, and add filters and editing to that, well, it's hard to compete with, never mind reproduce in any real way. Although I could talk at length about this, I am getting off topic. My goal with this post is to maybe change the dynamic a little. Over the years, as a bridal makeup artist, I have been shown many inspiration photos, and let me tell you, there is a lot of overlap. Below are the most frequent photos clients show me. I wanted switch it up a bit, and show you alternatives to these images. I think there are more modern takes on these makeup looks, and thanks to Meghan Markle, I think makeup for brides is going in this direction anyways: that direction being, skin first, makeup second. I will dive into more detail below, because I think pictures help to clarify what I mean...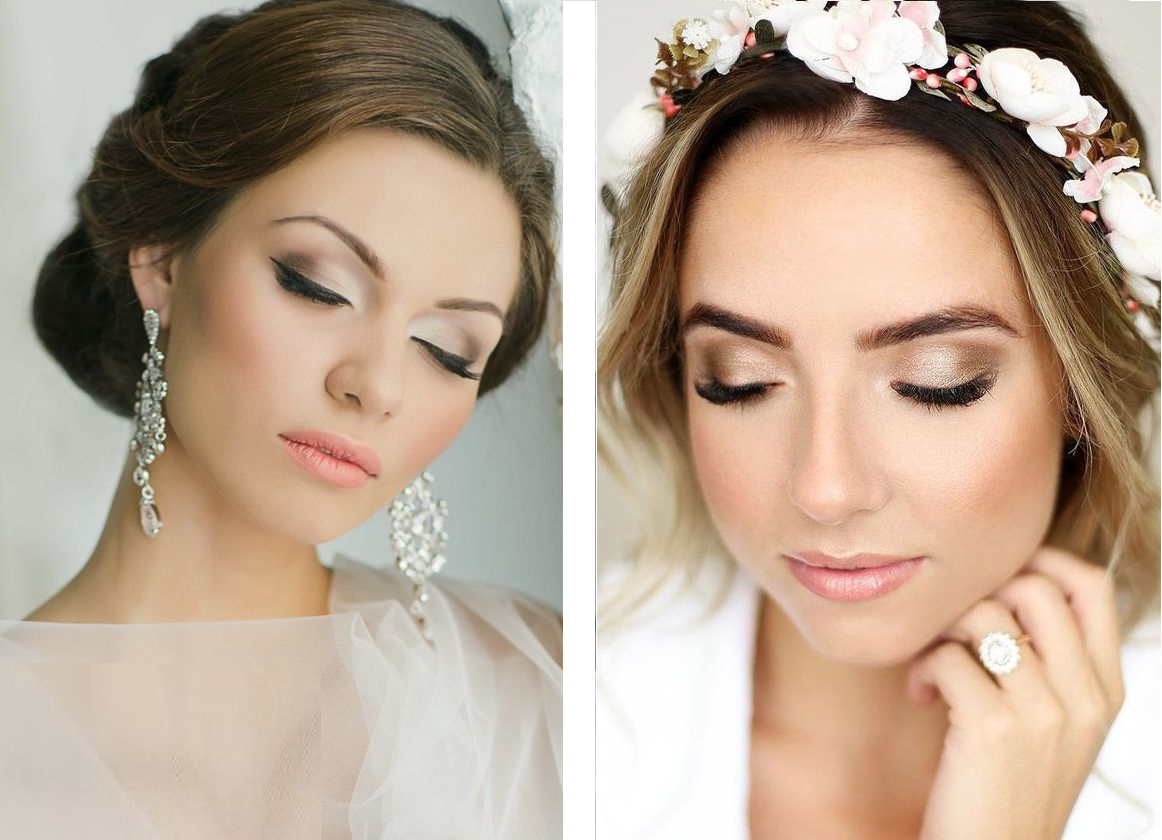 Pay attention to how flat-looking the skin looks in the photo on the left, versus the right. Her whole look: eyeshadow, lips and skin, is quite matte and flat. I encourage you to inspect the look on the right. The skin has a satin finish, not too dewy and not completely matte. The finish on the eyes and lips is also a satin- it catches the light beautifully and looks fresh. The eyes have a luminosity, a glow that is warm, flattering and natural looking. The lashes look full and defined, no harsh black liquid liner. Those lashes look like her own (wink wink). The lips look full and creamy- unlike the matte lipstick on the left; where you can see the lip lines more.Finally the brows, I think speak for themselves. 
I want the take-away here to be the skin and the overall finish of the makeup- soft and glowing with definition, that is the perfect bridal makeup, in my opinion.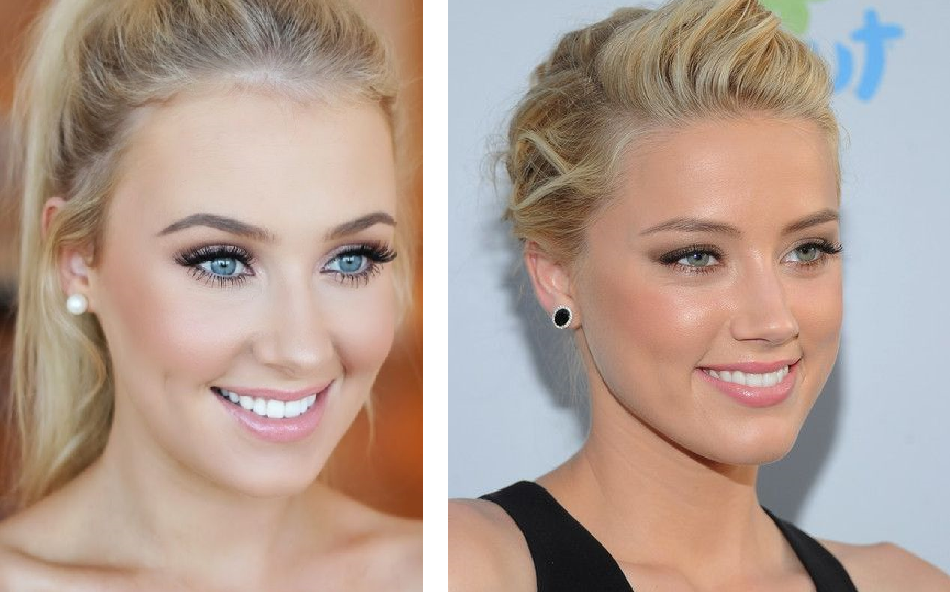 Again, skin is the focus here, as well as lashes. Listen; skin has texture, and we can pretend it doesn't, in this filtered, Instagram world, but when you are face to face with someone, you better believe they can see it. And, there's nothing wrong with that! Skin is alive, and should look like it. When I look at the image on the left, I see lashes first, then the rest of the face. When I look at the photo on the right, I see a glowing goddess, a natural beauty enhanced with makeup. The skin looks lush and glowy; whereas the skin on the left looks quite flat, and to be honest, really fake. I think makeup can really do a lot, but it cannot remove every bit of texture or fine lines, that's lighting and photo shop. Let's choose real beauty, real skin and a real glow from within.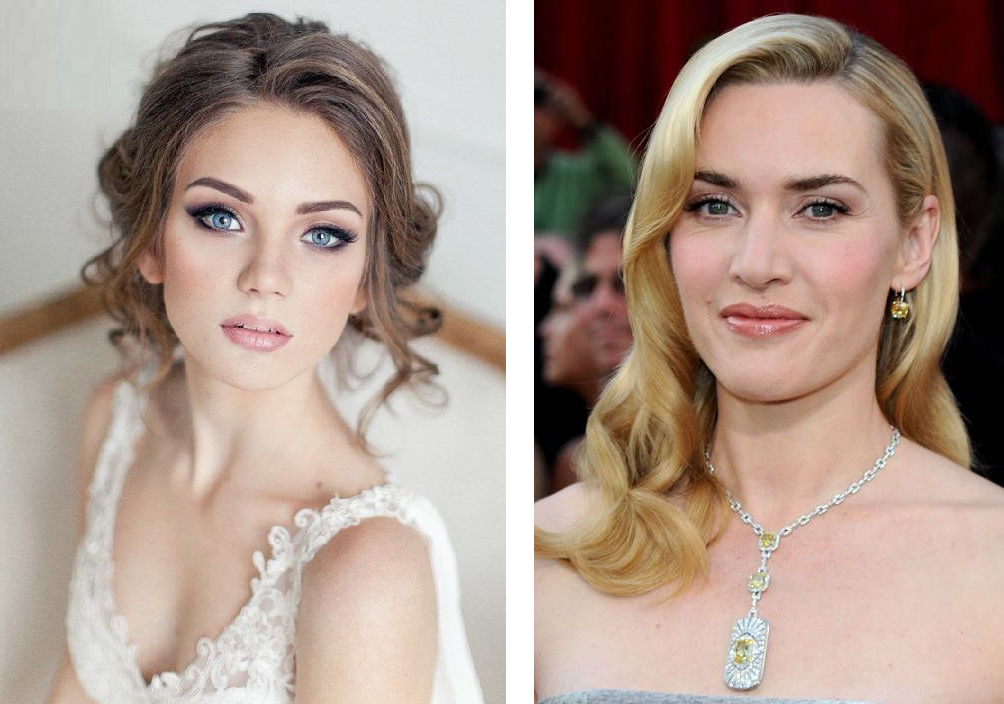 See those expression lines, see that peach fuzz? That's real skin on the right. I love how Kate's cheeks have a natural flush to them, how her glassy lips catch the light. If you want to see real makeup on real faces, real smile lines, look at red carpet makeup. The image on the left is highly edited, lit from many angles and posed in such a way where her expression lines are subdued. If it is your wedding day, you will probably be grinning a lot. I mean it is the happiest day of your life. So smile big, and know that you will have some expression lines, and that is perfectly okay, that's normal! Kate still looks very beautiful, stunning- even though she has some expression lines, around her eyes and mouth. I think she is more inspiring than the model on the left.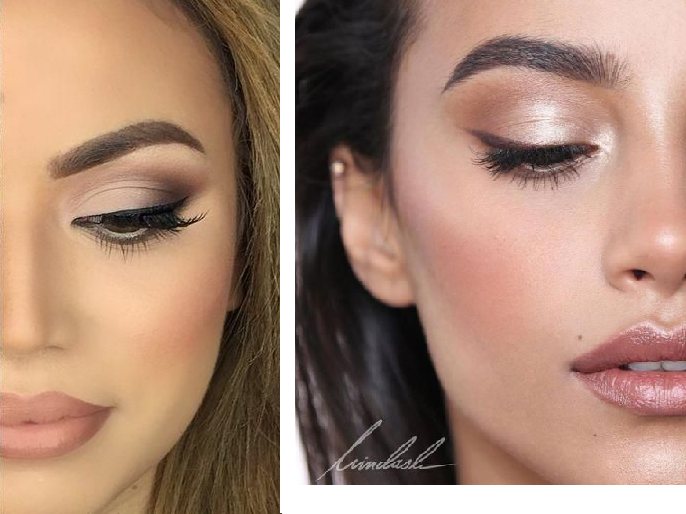 When you see these images separately, I don't think it shows the contrast as much as when they are placed side by side- so you're welcome! See how almost cartoonish the image on the left looks? Well, that's because it is so edited and photo shopped, that it basically is a cartoon. I want you to pay special attention to the lashes and the brows in this one. I mean, I think you can clearly see the difference in the skin and lips for yourself. See how soft and wispy the lashes on the right look? These lashes are way more believable than the ones on the left. The left side ones almost look amature in comparison. The brows are both very filled in, but there is a big difference between them. The brows on the left are very linear on the top and bottom, I call these "Instagram Brows." See how the brow hairs on the right are left free on the top edge? This keeps them looking fluffy and natural, like how eyebrows would look in real life(imagine that!)
For more real-life makeup inspiration, head over to my Instagram page: https://www.instagram.com/facetimewithdaniela/
#weddingday #bridalmakeup #makeupinspiration #bridalglam #naturalbride #realskin #glowing #bridetobe