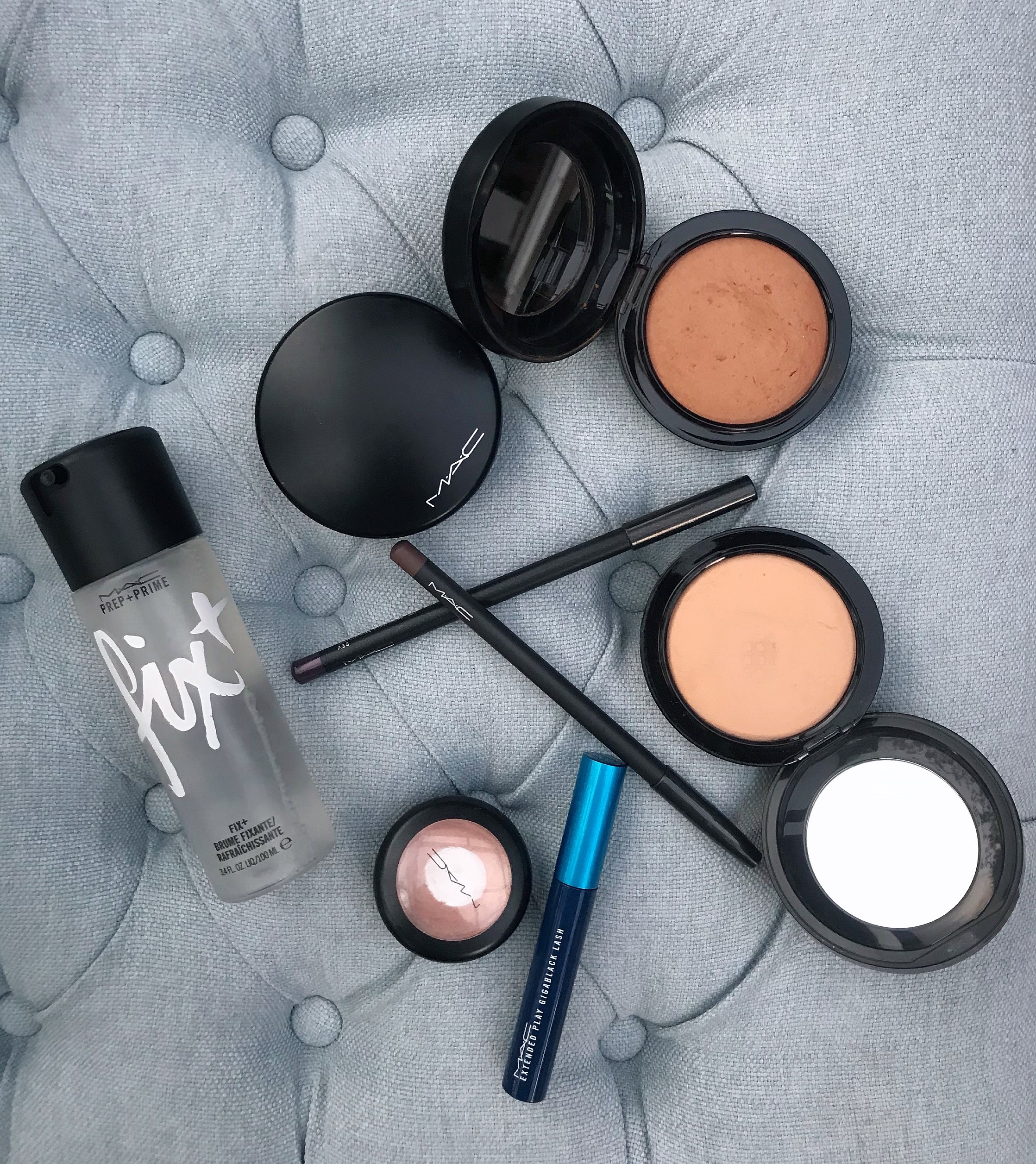 One question I get asked a lot, over and over is what my favourite makeup brand is...and the answer is I don't have one favourite- but there is one I know I can always rely on, that will be in my kit forever; and that's MAC. MAC is just the benchmark for me, for makeup products that always perform very well, are long lasting and suit every skin tone. Everyone can find something at MAC, and it is available everywhere. I love that. MAC was also started right here in Canada, which gives me all the feels. So; here are some of the products I always have in my kit, or return to after trying something new, that just didn't wow me. There's also a couple honourable mentions and a couple newbies to my kit that I have been loving, that are worth trying out.
Prunella Eyeliner
One of my favourite plum-taupe shades for the eyes. An excellent alternative to black and beautiful in the waterline. Smudge it out for a quick but intriguing smokey eye. Great for mature ladies who don't want anything too harsh, but still want to define the eyes.
Stone Lipliner
 Stone is having a moment as the "shadow" effect is huge right now. Sculpt the lips with this greigey liner for fullness. It works with any light to medium lipstick too. Just keep a light hand and blend in with your lip colour.
Hush Cream Colour Base
One of the best cream highlights out there. Beautiful soft wet look, blends over powders, and works for all ages. For deeper skin tones, try improper copper- it is the same texture, just a little richer in colour.
Fix+
A great setting spray for makeup, but it really shines as a refreshing mist. Wake up your makeup (and yourself) with a fine spritz of this lightly scented mist. Also works well to dampen your eyeshadow brush before you apply a glitter or pigment, for more intensity. Works to prime and hydrate the skin for makeup as well.
Gigablack Mascara
Great little mascara for those who can't find a mascara that doesn't smudge on them. Use it over your favourite mascara to lock it in, or as your bottom lash mascara, it has the perfect want for the lower lashes. Also great to "tight line" the roots of the lashes, making the lash line look fuller, but still natural. Best part is-it's easy to remove.
Mineralized Skin Finish Powders
These powders have featured in my kit for years. They give a little bit of coverage, but keep the skin looking fresh. Skin should never be too matte, because it starts to look like makeup. These powders come in a variety of shades and set your base beautifully. A great powder for those that don't like powder, but need to set their makeup and done shine control. These are great to gently highlight and contour the skin as well. You can use a slightly lighter powder in the center of the the face, and your matching shade on the perimeter of the face. You can also warm up the complexion with a warmer shade. A very versatile powder.
For an honourable mention, I have to acknowledge MAC lipsticks. They are really a staple in my kit and most women have one kicking around in their makeup bag. Two of my favourite shades are Ruby Woo, the perfect red; and Velvet Teddy, a gorgeous taupe-nude. Last but not least, a new favourite of mine from MAC are their extra dimension blushes. They are very sheeny and give a healthy glow to the skin and a soft flush of colour to the cheeks.
xx Daniela
For makeup inspiration & pro makeup tips follow us on Instagram